LOULIGA IS HONORED TO CATER TO ALL PATRONS OF THE CIGAR BUSINESS.
THE OWNER, LUIS RODRIGUEZ, HAS ALWAYS HAD A PASSION FOR SMOKING CIGARS, BLENDING CIGARS, AND SIMPLY ENJOYING THE CONVERSATION THAT COMES WITH SMOKING A GOOD CIGAR WHILE VISITING A NEW LOUNGE ALONG HIS TRAVELS. DURING HIS TRAVELS TO DIFFERENT COUNTRIES, HE DISCOVERED THAT HIS PASSION FOR CIGARS IS MUCH MORE THAN JUST SMOKING. NOW, HE IS EXCITED TO SHARE HIS EXPERIENCES WITH FELLOW BROTHERS AND SISTERS OF THE LEAF.
A SPANISH CEDAR HUMIDOR HAS BEEN CUSTOM BUILT TO NOT ONLY INCLUDE SPANISH CEDAR WALLS AND TRIM, BUT ALSO SPANISH CEDAR SHELVING. THE WALK-IN HUMIDOR HAS BEEN DESIGNED TO PROVIDE A VAST INVENTORY OF FINE CIGARS AND THE SPANISH CEDAR PROVIDES THE PERFECT ENVIRONMENT TO MAINTAIN THE LEVEL OF HUMIDITY REQUIRED FOR A BEAUTIFULLY AGED CIGAR. LUIS HAS PERSONALLY SELECTED EACH CIGAR TO PROVIDE ALL CONNOISSEURS WITH A VAST ARRAY OF CHOICES TO SATISFY YOUR PALATE.
WE WELCOME YOU TO JOIN OUR CIGAR FAMILY SO COME ON IN AND SIT DOWN, RELAX, AND LET OUR STAFF PROVIDE YOU WITH A WONDERFUL CIGAR EXPERIENCE!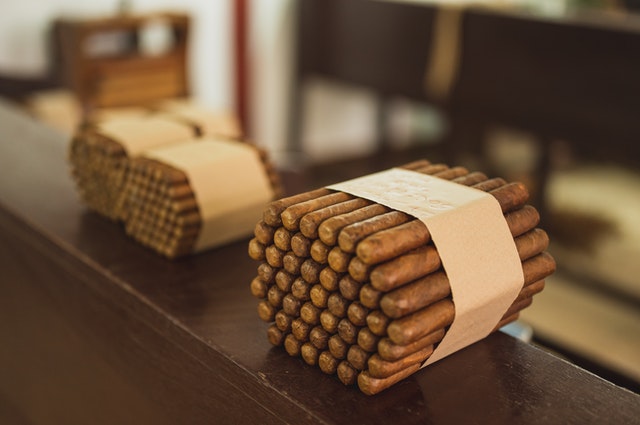 OUR KNOWLEDGEABLE STAFF WILL ASSIST WITH ADDING TO YOUR EXISTING CIGAR COLLECTION OR SIMPLY PROVIDE THE INSIGHT NEEDED TO HELP YOU EXPERIENCE THE FLAVORS OF A NEW CIGAR.
THE NEWLY CONSTRUCTED LOUNGE IS BUILT FOR RELAXATION WITH PLUSH LEATHER FURNITURE AND A CLASSIC LOUNGE DECOR. THE LOUNGE INCLUDES A NEW STATE OF THE ART VENTILATION SYSTEM, NEW FLAT SCREEN TVS, NEW SURROUND SOUND SYSTEM, AND INCREDIBLE ART CREATED BY HOMETOWN PHILADELPHIA ARTISTS.
Delivered Right To Your Door
LOULIGA IS THE PERFECT PLACE TO ENJOY YOUR FAVORITE CIGAR WHILE UNWINDING YOUR DAY, WATCHING YOUR FAVORITE SPORTING EVENT, NETWORKING WITH NEW COLLEAGUES, OR TO JUST PROVIDE A PLACE TO SIT DOWN AND TALK CIGARS WITH FELLOW CONNOISSEURS.
LUIS HAS ALSO HAND SELECTED A COFFEE PARTNER THAT IS EXCLUSIVE TO THE LOULIGA LOUNGE. HAVING A GREAT CUP OF FRESHLY BREWED COFFEE ADDS A WONDERFUL AROMA TO THE ROOM AND FOR THOSE COFFEE DRINKERS, IT ADDS A WONDERFUL PAIRING TOUCH WITH YOUR FAVORITE CIGAR.